Connecting Kids
#CodeYork : A city wide network of code clubs to enable children and young adults to learn the basics of computer science.
---
#CodeYork is here!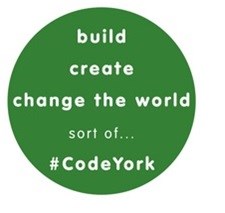 #CodeYork is a citywide network of volunteer-led after school coding clubs designed to help children grasp and master the discipline of coding which is basic computer science. In York children aged 10-16 will soon have the opportunity to get coding at their local secondary school and be a part of this growing nationwide initiative.
If you are interested in taking part, are a parent or guardian of a child who would be interested in attending or you are a potential volunteer, please contact us on digitalcity@york.gov.uk to learn more about the opportunities this initiative will bring.
Alternatively you can sign up to volunteer via our online application! www.bitl.y/JoinCodeYork
Volunteer Information
Our volunteers come from a range of backgrounds,! Whether it's a retired lecturer or an undergraduate university student! At #CodeYork if you have the passion for computer science then you are more then welcome to apply to become one of our volunteers!
Entry Requirements:
- Confidence
- Dedication
- Knowledge about Computer Science (Fluent in at least in 1 programming language)