Connecting Kidz
#CodeYork : A city wide network of code clubs to enable children and young adults to learn the basics of computer coding
---
#CodeYork is here!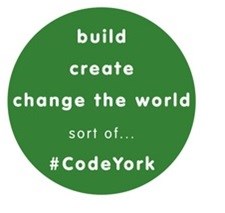 #CodeYork is a citywide network of volunteer-led after school coding clubs designed to help children grasp and master the discipline of coding which is basic computer science. In York children aged 10-16 will soon have the opportunity to get coding at their local secondary school and be a part of this growing nationwide initiative.
If you are interested in taking part, are a parent or guardian of a child who would be interested in attending or you are a potential volunteer, please contact us on [email protected] to learn more about the opportunities this initiative will bring.
#CodeYork November & December weekly classes @ Millthorpe School
We are currently running weekly sessions up until Christmas at Millthorpe School for both adults and children.
If you are interested in learning more or signing up, please visit:
Adults sessions : bit.ly/MillthorpeCodeAdults
Children's sessions : bit.ly/MillthorpeCodeKids