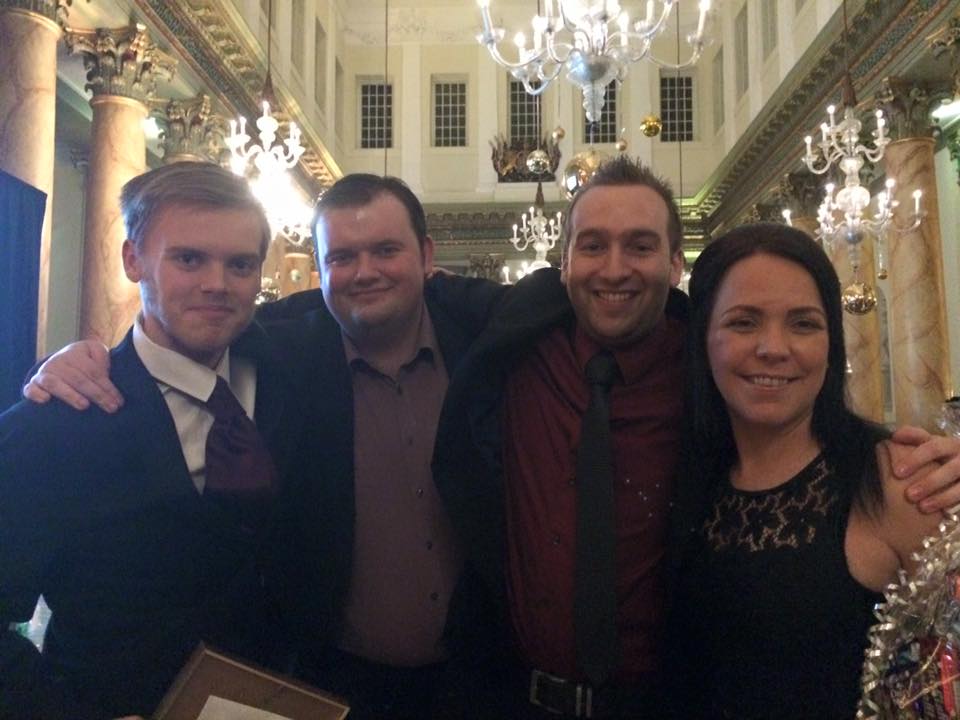 Hi everyone!
As I sit here nursing my hangover (I say hangover, I was mainly on soft drinks so that should probably read sugar rush comedown...) the full events of last night are dawning on me (rest assured, I departed before I could display any of my world famous worse-than-dad-dancing...talents. I can't speak for Lindsay and Rob however!).
Last night was the council's very own VIP Awards. A nice way of rewarding council staff's hard work throughout the year by recognising the teams and the people who have gone above and beyond in their own way to make CYC great, but more importantly how we strive to give the residents and visitors of our great city truly great service.
A couple of weeks ago out of the blue, we received an email in our team inbox announcing that we had been nominated for the Digital Innovation Award category. As a team who has always just 'gotten on with it' and focused on the task at hand while ensuring we give the very best service we can, we were surprised but definitely proud to have been noticed.
Looking back across our work this past few months though, it makes sense we'd have attracted someone's attention at least, whether it was:
Administrating a large government grant scheme across multiple districts (and counties!) from Harrogate to East Riding including ourselves and Selby isn't easy, nor is it something you do everyday in our line of work! Finishing well into the top half of 51 cities across the UK for issuing vouchers takes a lot of dedication, organising and marketing nous.
Running successful coding workshops for kids (They say never work with technology, kids and animals... well we definitely had 2 of the 3 in attendance!) If seeing a packed out computer room full of enthusiastic kids wasn't reward enough for our efforts, those little feedback forms from the kids who attended  telling us how it was the "Best club ever!!!!" certainly did the trick.
Enabling local business to set up Wi-Fi access points across our city centre, our public buildings, community centres, public transport...
On the face of it, we have accomplished so much for York, so while it makes sense we were noticed, it is still a very nice bonus to be recognised for what we've done as a team.
Fast forward to yesterday and it was award ceremony time! After some fantastic food courtesy of of our hosts, ASK, we made our way to our places for the announcements in this fantastic setting, which used to be the city chambers. The announcements were done in a very tasteful way with each individual being beamed up on screen with a per-recorded interview from them explaining a bit about what they did, why and how they felt to be recognised. Public sector workers get some negative press however the stories throughout the night proved how completely undeserved it is.
Then it was our category. An envelope was opened, the entire audience was on the edge of its seats.
It was at that moment our name was called out.
It's hard to describe the feeling of winning recognition for something you've strived for so many months to ensure was a success, but complete and utter jubilation does spring to mind.
I'm sure I can speak for the team when I say thank you to everyone who has joined us on this journey. Fellow BDUK city voucher leads and teams, BDUK personnel, local residents and businesses, partners from across the city, fellow council staff and of course, our magnificent ICT colleagues – thank you all for your support and help this past year! We couldn't have reached as many people and helped as many businesses as we did without your input. Yes, there was many a time we had to go it alone but without the support of the community we couldn't have accomplished as much as we did.
As a final note, I hope the big take away you can get from this blog is that we're always trying to help York better itself in some way whether it's helping secure the world's fastest internet connectivity network for our citizens and businesses, or helping enable free Wi-Fi for all in our city centre, or ensuring everyone in our city can learn the most essential skill of the 21st century in coding. We can't accomplish of all this on our own, certainly not volunteering for every code class at every school in the city! If your interested in helping us get code clubs and #CodeYork in every school, or interested in learning coding or more advanced programming languages then please do get in touch at [email protected].
Thank you everyone for your help in 2015. And a Merry Christmas and a happy new year.
And 2016? We go again, with a newly raised bar in our sights.
Joe