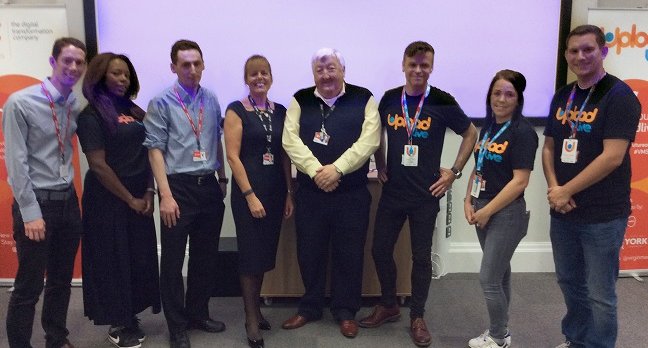 Hello everyone,
Since my last blog, it's fair to say the nights have drawn in, we have displayed and removed our pumpkins, had our bonfires, and are now in the throes of the holiday spirit. Of course more to the point, we have held another successful CodeYork event - Upload Live, and prepared our plans for the next 3 months, which is what I want to talk to you all about in this blog.
Since its creation, CodeYork has grown beyond what we had originally envisaged. The original basis of the programme was to ensure everyone had the opportunity to learn to code. Whether it was within Primary schools and Code Clubs, Secondary schools and a York branded club to fill the niche in the market, or to ensure that there were locations in and around the city for adults to pick up a new skills, we were very clear this programme would be formed to achieve this. Thus far we have set up clubs within Millthorpe School and The Mount Primary School however, we expect to be setting up clubs in Dringhouses Primary, St Barnabas' Primary School and York High School within the next 3 months. This will help us to meet our goal of setting up 3 clubs every term in York schools, therefore achieving our programme aim to have a club in every York school.
We realised early on that CodeYork needed more than just clubs, it needed another dimension to make it more rewarding. By running regular events throughout the year, we realised we could not only create a way of promoting coding, but that we could open peoples eyes to the different opportunities within code based industries, to challenge those who were far along in their code education, and to generally give those who had started to learn a bit more fun around the topic. Since our big October 2015 CodeYork  Event at York Explore, we have run further events like CodeTrain at the National Railway Museum in March 2016, C U in the City in association with Children's University as part of the Festival of Ideas in our own West Offices, and more recently Upload Live, again here in West Offices. Turnout has maintained a regularly high registration level and it's because of demand that we are excited to confirm there will be another CodeYork event coming in early 2017.
Finally we are proud to announce that from January 2017, we are looking into rolling out a brand new Robotics rental program to local York schools. With the advent of self driving cars, domestic robotics, drones and other devices, we know that children growing up today need to have the knowledge and skills that this new era requires in order to better set them up for the future. We are exploring options with a view to renting out basic, intermediate and advanced robotic sets, which we believe will help children develop advanced skills beyond what children in other areas in the UK will be accessing. We will be in touch with local York schools imminently to explain this opportunity further, how to access it, and the minimal cost to do so, thus ensuring we can maintain the equipment for future generations.
Its innovative, ambitious thinking like the above, and our 'getting the job done' mentality that has made the programme what it is today, that got us a nomination and subsequent short listing for a major national award, and that will help us achieve the programme aims, all of which add up to the betterment of the city of York.
Don't forget if you want to know more about us and the programme, or even get involved as a volunteer, to follow us or like our page on Twitter and Facebook respectively (YorkDigitalCity). You can also email the team at [email protected] too!
Thanks for reading
Lindsay.
Lindsay Wilkinson | Digital City Executive | ICT
t: 01904 551091 | m: 07879 415784 | e: [email protected]
City of York Council  | Digital York | West Offices | Station Rise | York | Y01 6GA
www.digitalyork.org | facebook.com/YorkDigitalCity | Twitter @YorkDigitalCity