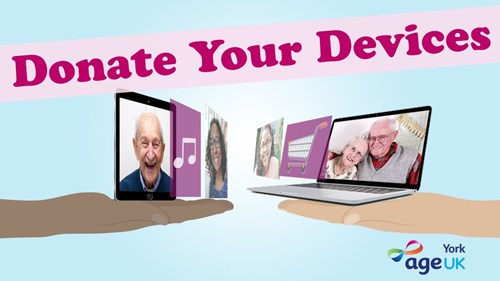 We are committed to bridging the digital divide in York. Digital inclusion is crucial for maintaining connection with friends & family, home working & schooling plus accessing essential services. Almost 9% of people – over 15,000 people, living in York don't have digital access. We believe everyone should at least have the choice to be online…
We have setup an IT reuse scheme for the city in partnership with Age UK York and the Community Furniture Store (CFS). Support for the provision of a computer is available for people that are isolated and / or on a low income – including the elderly, people that are homeless and people with disabilities. We are now seeking donations to reuse devices, and support those who do not have a computer suitable for their needs.
We can all help fix the digital divide in York by donating devices for those not online to benefit from this essential service. The Community Furniture Store (CFS) is collecting unwanted IT devices that can be refurbished and donated to people within our community who don't currently have any form of IT access. If you have any machines that are not being used please let us put them to good use.
Please refer to the 'Guide to how to donate your devices' provided by Age UK York on their website. Devices will be fully wiped and all data removed before being setup for the needs of the new user.
There are now four locations across the city for you to drop-off any reusable devices. Donations can be taken to any of the following addresses:
- Community Furniture Store at Unit 29 on the Raylor Centre, James Street York, YO10 3SW. Alternatively call 01904 426444 to arrange free collection.
- Haxby Memrorial Hall Office, 16 The Village, Haxby, YO32 3HT. Monday to Friday between 9am-4pm.
- Clements Hall, Nunthorpe Road, York, YO23 1BW. Monday to Friday between 9am-4pm.
- Foxwood Community Centre, Cranfield Place, York, YO24 3HY. Wednesday between 1pm-2.30pm & Friday 9.30am-11am.