Jae's Blog: Curry Night!
08 December 2015
---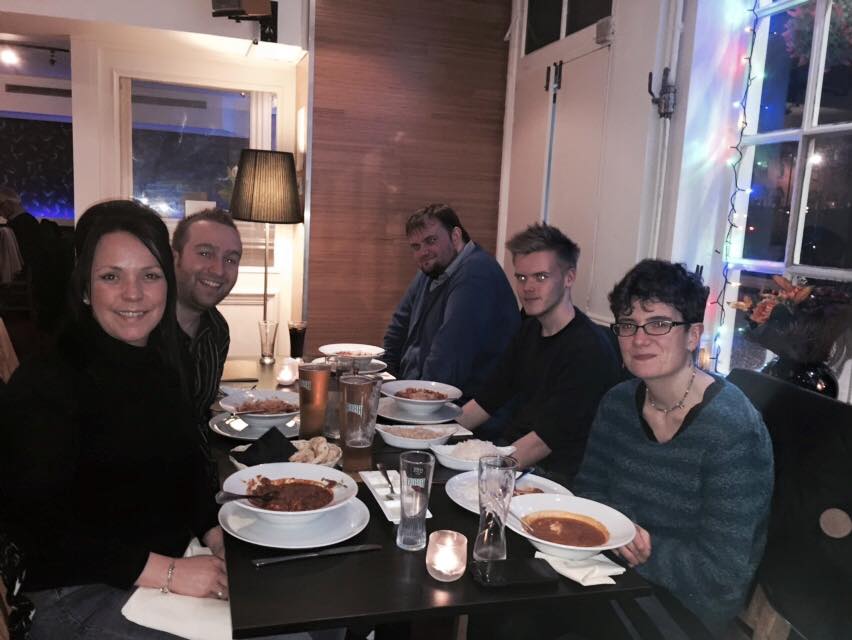 Here we are again, taking a break from our very busy work schedule. No bangers and mash last week for the Digital City Team! Instead we ventured down t' Tower Street to indulge in some Indian cuisine at a new restaurant.
Who couldn't resist a good old fashioned selfie? Yes, I suppose we're all quite camera friendly. We love to go out when we have a free evening and enjoy a meal as a team, a little break from revolutionising York into a new digital era. Curry nights are always interesting to watch, to see who breaks a sweat first out of the group. Unless you're Linz and require your curry to be hotter than usual (crazy!).
You could call us all 'bargain hunters' we love to eat out for a cheap price, I mean who can you blame for a two course meal and half a pint for £9.50?! We have our sources; we have specific members of the team who are good at spotting coupons and vouchers for meals out (*cough* Linz *cough*). Cheap food and a belly full at the end of a long day at work, we deserve a treat! Even if that means almost combusting into flames from the food.
We strive to transform York into the best digitally connected city, with all the upcoming projects such as #CodeYork it's nice to sit back and have a clear head. We like to venture out as a team visiting new places in York trying new things, there's always something happening in York and it presents us with very exciting opportunities.
Last week was a little more than just another team meal for us, instead we had some celebrating to do; The York Digital City Team had been short listed for an award within City Of York Council and we're all proud of what we've accomplished together over the past 6 months. We've had huge success from the projects and events we have been working on in the office.
Brilliant night with this bunch!
Thank you for reading.
www.twitter.com/yorkdigitalcity
www.facebook.com/yorkdigitalcity
www.instagram.com/yorkdigitalcity
Email us: [email protected]
Call us: 01904 552999