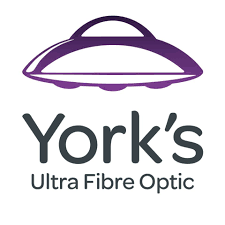 NEW Year gives us all the opportunity to reflect on what went well in 2018, and to evaluate what you can do this year to make your business even better.
Efficient IT systems are paramount for almost all businesses.
Slow internet should be a thing of the past, however some businesses are still struggling with low speeds that create frustration with employees while reducing productivity.
Businesses rely on robust technology for day-to-day tasks such as downloading or uploading files, emailing or accessing shared portals.
The time wasted from downtime caused by unreliable internet and poor connection speeds will cost your business. Not only in monetary terms, but also your reputation.
This is why business owners in York are preparing to future proof their businesses by choosing York's Ultra Fibre Optic from TalkTalk.
The next generation, city-wide full fibre network, provides York with lightning fast speeds of up to one Gigabit per second (1000MB/s) making it 20 times faster than the UK's average 'fibre'.
Consistently reliable, stable and futureproof, York's UFO will give your business the internet speed and resilience it needs and could be the thing that makes 2019 your best year yet.
* York's Ultra Fibre Optic from TalkTalk is available to businesses and homes in Dringhouses, Woodthorpe, Foxwood, Chapelfields, Rawcliffe, Clifton, Huntington, New Earswick and parts of The Groves.
It will be available to 55,000 homes and businesses across the city once the project is completed in a years' time.
To find out if you can connect and how we can help your business go to talktalk.co.uk/ufo and enter your postcode.
*Credited to York Press - https://www.yorkpress.co.uk/business/columnists/17345056.kick-start-success-in-2019-with-yorks-ultra-fibre-optic-from-talktalk/?ref=mac