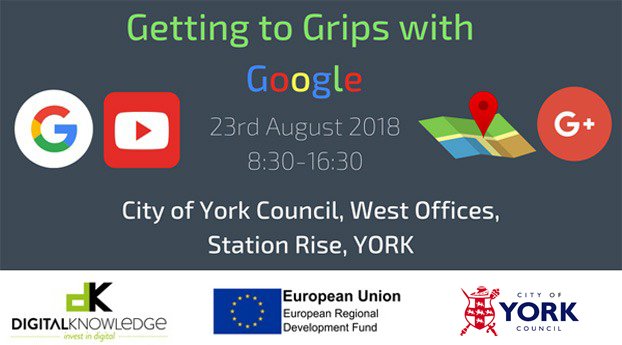 York businesses set to get to grips with Google
Google is coming to York to help small businesses from across the region learn crucial skills for the digital age. The free 'Getting to Grips with Google' event will take place at the City of York Council West Offices on Thursday 23 August from 8.30am till 4.30pm.
The event is being delivered by the Digital Knowledge Exchange, part of the government backed Digital Enterprise business support programme, which helps eligible, growth focused businesses, based in the Leeds city region to scale up and achieve digital transformation through access to funding and free learning opportunities such as workshops, masterclasses, digital conferences, digital audits and one to one mentoring support.
At the 'Getting to Grips with Google' event, experts from Google's Digital Garage will deliver a session on 'Knowing your business data' with attendees learning how to set up analytics, define business goals and discover insights through reporting.
Anj Handa, founder of Inspiring Women Changemakers, a dynamic movement of women leading social change, will share her story of how she has been able to generate leads and forge new business relationships from all over the world by implementing the google and search engine optimisation techniques.
Anj Handa said: "The knowledge I have received from being part of the Digital Enterprise programme has allowed my website to rank number one on Google for 'women changemakers'.  It has also led to new speaking opportunities in Paris this September. 
"I've even had an invitation from last year's Mother Theresa International Award winner and an Australia-based movement '1 Million Women' got in touch to ask about my young changemaker leadership programme, Inspiring Global Citizens.  
"This wouldn't have been possible without the invaluable support from Digital Enterprise.  Any small businesses that wants to increase their profile and visibility should definitely attend this Google event."
Attendees will also hear about some announcements from Google's recent conference and have the opportunity to learn some tips and tricks that will help their small businesses to succeed. The event will also look at how to maximise the Google toolkit, YouTube, Video Marketing, Google Adwords and Search Engine Optimisation (SEO).
Beth Hewitt, Project Manager for the Digital Knowledge Exchange said: "Our one day 'Getting to Grips with Google' event is a great way for businesses to take time out of the office to learn something new which could have a real impact on their future success. We have a number of experts on hand including those from Google's Digital Garage, who will help attendees understand how Google can help their business. There is nothing like hearing from someone who has put these ideas into practice and Anj Handa's story will reveal just how successful they can be."
Ian Gillies, Leader of the City of York Council, responsible for Finance and Performance, said: "I would encourage small businesses across the region to take advantage of this opportunity to find out more about the great range of tools that Google offers and how using the full toolkit effectively can really boost a small business".
Chief Executive at the City of York Council, Mary Weastell, will be delivering an introduction to all of our SME attendees, sharing York's digital strategy and the importance of SME's within the city of York.
For more information on these events and to register with the Digital Knowledge Exchange visit  www.digitalenterprise.co.uk/digital-knowledge/events/ or contact the team on 0113 426 0535 or email [email protected]
Getting to Grips with Google takes place on:
Thursday 23rd August, 8:30am -4:45pm
City of York Council, West Offices, Station Rise, York, YO1 6GA